Getting life insurance can be a big step towards making sure that your family is looked after if something were to happen. You would want life to continue on for them and at FRANKLi we want to bring clarity to the process of getting life insurance. If you're just coming to it for the first time, don't worry we will break down everything you need to know.  
What is Life Insurance?
Life insurance is a type of financial protection that allows you to leave money behind if you were to pass away. It is essentially a contract between you and a life insurance company. When you are applying for life insurance, you agree how much you will pay every month and how long you will pay this amount for.
If you were to pass away during this time period the company will pay your loved ones a lump sum which you agreed at the start of the policy. This monthly amount is known as your premium and the lump sum paid out is known as the benefit amount. As long as you continue to pay your premiums your family will be paid the benefit amount in the event of your death. 
What are the types of life insurance available?
When it comes to life insurance there are two main types of policies available; Term and whole-of-life policies. You can look at term policies as covering you for a certain amount of time that you will agree beforehand. Whole-of-life policies are centred around covering you for your entire life. There are of course different variations of these policies available. However, it can be helpful to think of them under these headings.
With FRANKLi there are two types of policies available to you; FRANKLi Life Insurance and Mortgage Life Insurance. These two policies are term and decreasing term policies respectively. The main differences between these two policies are reflected in what they are designed to help cover. 
With Mortgage Life Insurance it is set up so that it can help you cover any large loans or debts you might have. The benefit amount of this insurance decreases over time roughly in line with that debt. You can find more details on Mortgage Life Insurance in our extensive guide. 
With FRANKLi life insurance, your benefit remains consistent over the term of the policy. This type of policy is designed to help your loved ones with any costs after you have passed away.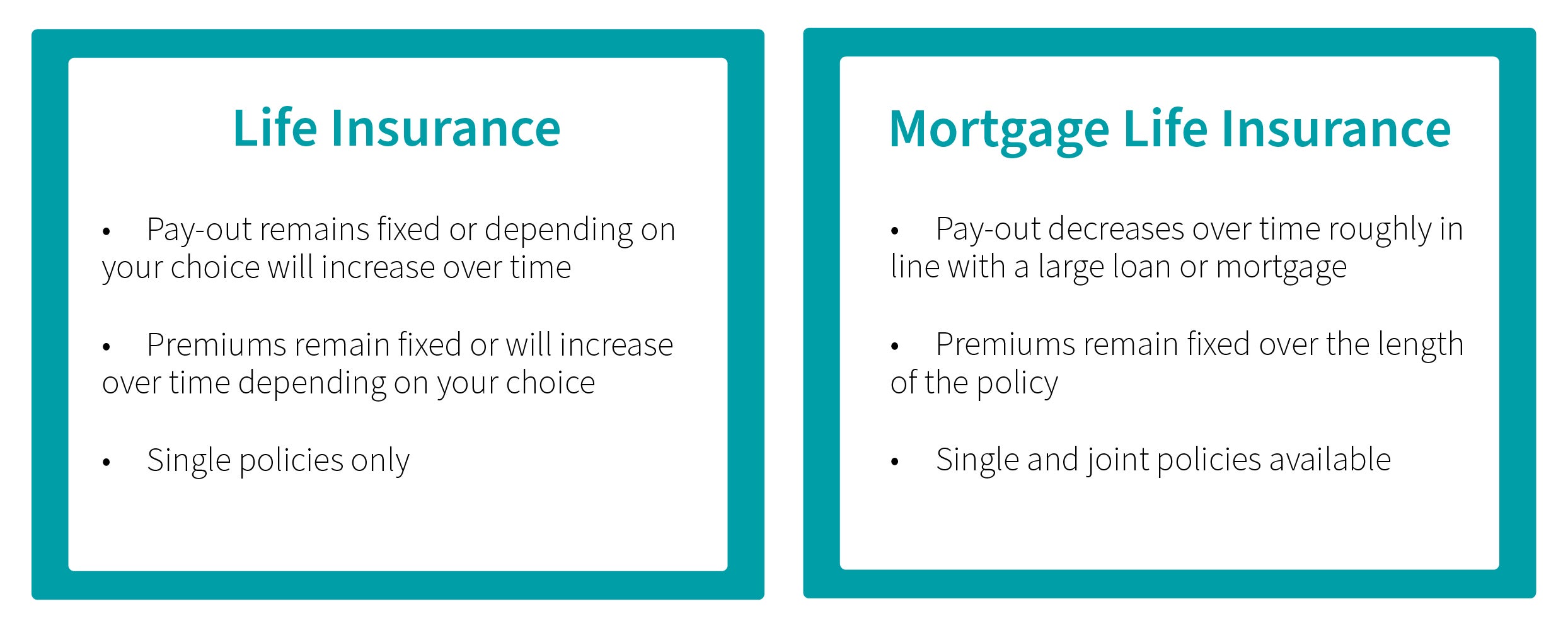 Is life insurance worth it?
Making the decision to get life insurance is a personal one. It really depends on your situation and whether or not you can afford it. The main aim of getting life insurance is to help provide for your family if something were to happen to you. While we might not like thinking about it, death can potentially be costly for a lot of families. What life insurance can do for you is to allow you to continue with your life with some kind of peace of mind. 
At FRANKLi, we want to make this process as simple and straightforward as possible. We believe it should be easy to get protection for your loved ones and we've done just that. With a phone call that will only last a few minutes, you can relax knowing that you are providing for your family. 

How does life insurance work?
While it might seem overwhelming at first, there's nothing to worry about. Before you secure your life insurance policy there are three things that you should have in mind:
How much would you like the benefit amount to be?
As we've mentioned, the benefit amount is the payout that you would like your family to receive in the event of your death. Figuring this out is dependent on what you would like to cover. You can take things like outstanding debts into consideration but you can also look at other costs. 
If you'd like your family to be able to keep going after you've passed away you can also look into things like school, childcare and other bills. You can also make use of our handy calculator which will give you a better idea for how much the benefit amount would cost per month. 
How long would you like to be insured for?
With life insurance, the term refers to how long the policy lasts. Having this in mind before you get life insurance can make the process even quicker. Look at things like how long you've got left on your mortgage or even how long the kids have left in school. Ideally, your life insurance term will end around the same time that you and your family are more financially independent. 
Level or increasing policy?
Another option you have with FRANKLi life insurance is whether or not you want the benefit amount to increase over time. A level policy is a type of insurance policy where the monthly premium and the payout will not change over the duration of the term. This could be fine for most people but we also offer something called an increasing benefit policy. 
With an increasing benefit policy, the payout of the policy will increase each year in line with the Retail Prices Index (RPI), up to a maximum annual increase of 10%. It's important to note that your monthly premium will also increase 1.4 x the benefit until the end of the term.  
You might be asking yourself why would you want your benefit and the amount you pay each month to increase? Choosing an increasing benefit policy could help to offset the effects of inflation. Hopefully, your family will never have to claim on your insurance policy. However, if they were to claim it could potentially be a few years down the line. The effects of inflation could mean that the value of your payout could decrease over time. 
When considering an increasing life insurance policy, it's important to consider your ability to pay a higher premium in the future. 
If you want to find out more, our guide to understanding life insurance goes into much more depth on this.
What next?
Once you have both of these things in mind you can get in contact with one of our life insurance agents. From there you will agree on the term and the benefits. There will also be something called a monthly premium mentioned. This refers to the amount of money that you will pay each month in order to maintain your cover. 
If you feel like the monthly premium is too much or it could be an issue further down the line it's important to reconsider the benefit amount. Missing payments could result in a situation where your family isn't protected. When discussing the monthly premium it's important to look at your ability to pay in the long term, not just in the next few months. 
However, if the monthly premium is agreeable you can go ahead and process the life insurance policy. A direct debit will then be set up on a date that is agreed with you. Once those details have been settled on you are covered with FRANKLi from day one (except for intentional self-inflicted injury in the first 12 months). 
How much does life insurance cost?
This will depend on how much cover you want and how long you want your policy to last. However, there are other factors that come into play and are worth considering. The amounts that you can be insured for will depend on your age and your own personal circumstances. The following is a list of the maximum amounts you could have access to depending on your age:
Maximum amount of cover:
£20,000 (aged 40-84) at start date)
£750,000 (aged 18-39 at start date)
£600,000 (aged 40-44 at start date)
£400,000 (aged 45-49 at start date)
£300,000 (aged 50-64 at start date)
£100,000 (aged 65-74 at start date)
£50,000 (aged 75-84 at start date)
The cost of a premium will ultimately be determined by the amount of risk involved in providing you with insurance. If you are in a situation where you are in perfect health and live a healthy lifestyle your premiums could potentially be relatively low. Whereas if there were some underlying issues such as weight or certain health conditions it can end up being more expensive. Another potential issue is if you are a smoker. As we all know smoking can have a big impact on your health long term. This is why it can have a big impact on the cost of your insurance. 
Should you get life insurance if you aren't the primary breadwinner?
It's understandable if you look at the costs of life insurance and think it might be a bit of a stretch in your current situation. You may want to prioritise replacing someone's income over someone who might look after the house. It is true that with life insurance it is generally intended to help with bills and debts if the primary earner passes away. However, there are certain costs that you might not consider at first glance. 
Childcare costs can be a lot for a family to take on at short notice. There are also funeral costs to consider. Between general expenses, outstanding debts and extra expenses there may not be a lot left in savings. Childcare and funeral costs at short notice could put a lot of pressure on a family. While you certainly don't have to get life insurance if you aren't the primary breadwinner, it's worth considering. 
What are some of the benefits of going with FRANKLi?
At FRANKLi, our aim is to make the process of getting life insurance as simple as possible. We offer real protection so that whatever happens, your loved ones can carry on with life as you would want them to. There's no smoke and mirrors with FRANKLi, just straightforward, honest life insurance. Our prices start from as little as £5 per month1 and our cover kicks in from day one (except if death is the result of self-inflicted injury in the first 12 months).
When you choose FRANKLi, your policy will also include free healthcare services, a flexible policy, and a free legal Will kit. With our free healthcare service, you can manage the health and wellbeing of yourself and your loved ones. You, your partner and kids (up to age 21) can get unlimited access to six key services: a 24/7 UK-based GP, Best Doctors®, mental health support, an online health check, access to nutrition consultations and an online fitness programme. All of this comes as part of any FRANKLi life insurance policy.
Protect your family's future
Ultimately we don't know what's coming around the corner. Having something in place as protection can help you get peace of mind. No matter what happens we can take comfort in the idea that if things went wrong life can continue on.
1 £4.84 per month for a 32-year-old non-smoker with £100,000 of life insurance cover over a 10-year term.